I've been going to ConnectiCon for several years now.  The first year I really didn't know what to expect but the boys were all into it and so I figured why not tag along.
To say I was absolutely gobsmacked would be an understatement.  What a wonder to be in a ginormous glass and concrete convention center surrounded by people of all shapes, colors and ages united in a love of all things geeky and fantastical.
I'd never seen anything like it.  I've been to conferences for work before but never realized that there were ones for nerds.  There are in-depth sessions on topics from Jim Butcher's Dresden Files, to Dr. Who 101 and world building for games or fiction and an exhibitors hall where one could blow a sizeable sum in minutes on anything from live steel weapons to handcrafted fantastical wonders to books from a small press I've never heard of but want to know more about.  Who knew such a thing existed?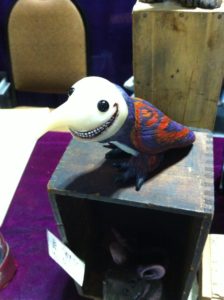 A friend and I went to a Star Trek convention when we were in high school back in the day.  It was fun wandering about a beige hotel ballroom with other nerds looking at the stuff for sale and the costumes that a few brave souls cobbled together but it was nothing like what is "New England's ONLY massively, multi-genre pop culture convention" to quote directly from the ConnectiCon website.
Wandering about that sea of humanity, in many ways I felt like here was my tribe.  These were the people who would actually understand what the fuck I was talking about if I started saying "This is mine and this is mine and this is mine" or cracked about Reavers eating our flesh.  I'm not a hard-core fan in that I can quote chapter and verse from the Federation Charter but I am more than passingly familiar with a wide variety of universes across multiple formats whether it be paper, film or television.  I'm not much of a gamer (electronic or board) but I've dabbled and the kids keep me in the loop on a lot more.  While I enjoyed Star Blazers and Spaceketeers growing up outside of Boston in the 70's I drifted away from anime once I no longer had easy access to it.  Mal and Sofie love it though so I've seen more contemporary shows then I ever wanted to so if nothing else there's a passing familiarity with characters when they're walking in front of me.
Every year I've gone to the con I've been fascinated with the costumes that people come up with.  Even if I don't follow that universe I understand the time, thought and effort that goes into them.  Many of them are wearable art in costuming and creativity.  Sometimes it's something as simple as black clothing, some canvas webbing and manacles to pull of a very fine Riddick or a Boba Fett that must have taken hundreds of hours if not dollars.

Last year some poor young soul was trying to get her corset to sit right and getting quite frustrated with it.  Her friends were doing the suck it in and pull method of lacing so I stopped to help her.  I explained that I wasn't being creepy but that I wore one occasionally for work at a historic site and would she let me help her.  She literally breathed deep once I fixed it and it felt good to know that she wasn't going to be bruised by the steel bones at the end of the day.
I don't know how other cons are but this particular one is very accepting (and enforces that acceptance with words and actions) of cosplay at all levels, shapes and sizes.  I've seen men and women that some would call fat or unattractive rocking their own flavor of a bad-ass costume.  It's not the body that makes it a great cosplay, it's the spirit inhabiting it.
I envy them their confidence.
Wish I had just a tenth of it.
While picking up supplies the other day at a chain craft store, the young lady cutting the fabric for Mal's costume asked what it was for.  Turns out she runs the con's Instagram.  We had a lovely conversation about last-minute prep and the excitement that comes with the terror of trying to get things done in time.  She's going this year as a Betty Page Rocketeer.  I felt a little better about my own unfinished items to see her costume as a pile of neatly folded fabric on the end of the counter.
My very quiet and shy intern is going as a character from Black Butler.  The first day she showed up at work I thought she looked familiar.  I've probably seen her at the con before.  Now we'll have something to talk about come Tuesday.
How very small the world can be sometimes.
Last year I had a panic attack and ended up weeping in a bathroom stall because it was the only place I could find to be alone with thousands of other people in the same building.  What set it off was being there, surrounded by my fellow outcasts and yet I still felt alone and if I couldn't feel at home there, where could I?  But it's not about being at home in the world.  It's about being at home in yourself.  Something that I am still very much working on.
The kids are further along in this so at least we've done that right.  Due to time constraints Mal has shifted his cosplay idea from a character from Bloodborne complete with very complicated weaponry to a Pokemon trainer.  Sofie is also inhabiting that universe and will be Serena as soon as I glue the sunglasses on her bright pink hat.
This is her first time going to the con.  I can't wait to share it with her.
This year is the 50th anniversary of Star Trek, my first nerdy love.  I'm knee-deep in the preparations for a Vulcan costume to wear to the con on Saturday.  Mr Spock was always my favorite.  There's something to admire in a species (even a fictional one) that can out-think a computer and still kick your ass in a fist fight.
There have been setbacks and meltdowns with pulling it all together but I'm still moving forward.  Still bulling through towards the goal of having it ready in less than 48 hours.  At some point I suppose this will be fun.
I know from past experience that I generally don't regret the things I've done, just those I haven't.
No matter how panic inducing the getting there might be.