Didn't make it to my writer's group this week.  I feel horrible about that.  I love meeting with my ladies for lunch.  It's something I look forward to.  It's been a rough few weeks though.  Going back to my regular work schedule and the driving it entails (driving is tough on me), flower show, wake, funeral, holiday (yes, Parade Day is a holiday in this household), spring seed starting, the start of a cold, giving a talk of a historical nature, and then there's the typical dinners, laundry, cleaning and oh yeah I'm supposed to be writing a book here.
I'm beat.
Today's main complaint is a twinging back and the aforementioned head cold.  Hot tea is helping and the heating pad is doing its part.  The beginning of chicken soup is bubbling away in the crockpot.  It would be nice to have some wontons or tortellini for it but we'll make do with something else.
I didn't quite finish my morning oatmeal.  Wavering between crawling back into bed and trying to salvage something of the day.  I'm really pulling for the latter so I grabbed a snack and a glass of water and settled down at the desk.  And suddenly I can see him, stripped out and flayed open, my fifth and final main character in my first novel.  Yeah, I still have to peel back the layers a bit and poke around but I can see him clearly for the first time since I've been working on this monster.
He's been hiding in the back of my brain for months, years.  I have the rest of the novel outlined and cross referenced.  There are numerous notes and snippets of prose for all of his siblings and grandmother.  But there are no notes for him.  He was a cipher.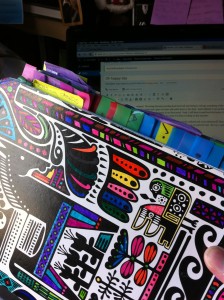 Now that I can see him I can finally get rolling again (I wrote 60K words last years, I consider that a pretty good roll) and finish this damn book.  I want to finish it.  I need to finish it.  I've never finished a major work before.
I always choke.
When I was in high school I attended a writing program for the second half of the school day.  The students gave a reading in the spring and I read the third chapter of a fantasy tome I was buried in creating.  After the reading an editor from a major publishing house (her husband was the photography teacher at the arts school) gave me her card and told me to send her the manuscript when it was done.
I never wrote another word in that universe.
The subjects of my undergraduate and master's thesis (thesi? thesises?) got the same treatment.  Yes, between the two of them (an architect and a librarian respectively) I did numerous papers, talks, and the aforementioned Major Papers, but now all those notes, reference books and resources are just languishing in the file drawer or gathering dust on the shelf.  I never managed to bring them to the wider world.
If you bring my tendency to choke out of the study and into my wider universe you'll find it there too.  Yes, the house got rehabbed nine years ago but there's still no trim, some walls are still covered in primer and paint samples and the ones that I actually managed to paint need a fresh coat it's been on so long.
I will finish this book even if it finishes me.
I'm over the halfway point in the story arc.  I know where I'm going with all of this mess.  I just needed to see that one final character and the bastard was hiding like the mouse that haunts my kitchen.
I have the final piece of the puzzle now.
Gotcha.  You shall not escape.
I guess this day isn't a complete waste of 1440 minutes of my life.
I still reserve the right to a lengthy nap.
I am ill after all.