The progeny are away with their father on vacation so even less cooking than usual is going on these days.  The fact that we are now well into a typically thick and hot summer in New England doesn't help.
The cereal supply has been restocked so that's always an option but even that's not too terribly appealing these days.
Who wants to eat when the temperature, relative humidity and dew point are all the same?
Digging through the freezer the other night, hoping for inspiration, I found some frozen pasta I'd picked up cheap at a local market.  They often get close-outs and upcoming expiration dates from other stores and items are priced to move.  So I bought a couple of these packs of pasta and threw them into the freezer where they patiently waited.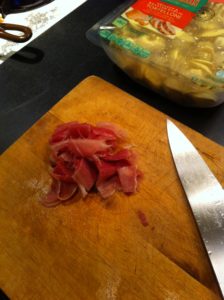 If I'm going to bother to cook it's not going to be something as simple as cook pasta, drench in sauce or butter, eat.
Nah, that would be too easy.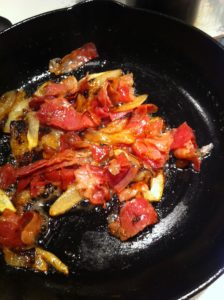 I caramelized some onions in a generous dollop of butter and then added in some prosciutto, also retrieved from the freezer, and cooked both until the onions were nice and brown and the prosciutto a bit on the crunchy side.  This would work well with bacon as well.  Just make sure you cook it first in a separate pan to keep things from getting greasy.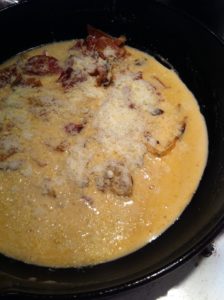 Threw a splash of cream with a bit of grated Romano cheese into the saute pan and then into the cooked pasta and dinner was served.  It's not a full Alfredo sauce, those are for the depths of winter.  This was just the hint of one.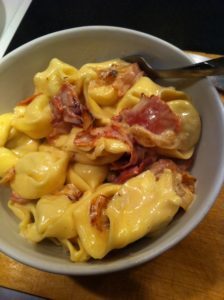 Dish up with a side salad or veg and some good crusty bread if there's any on hand.  What could be faster or better?
Perfect for a hot summer night hiding in the air conditioning thinking of cold winter nights to come.