The older I've gotten the more I appreciate the malleable beauty of caramel.
I don't remember the flavor fondly from my childhood.  I remember one experience with attempting to make a caramel apple with those packaged sheets and it not going well and tasting even worse.  There was probably the occasional hard candy as well but I'm just coming up with a sticky linty flash of vague memory.
And then one day, a few years back, I picked up a container of dark chocolate covered caramels while at Trader Joe's.  Suddenly I understood the appeal of caramel.
It can be a syrup over ice cream with flecks of vanilla in it.  Works slow baked on popcorn for that sweet and crunchy fix or sandwiched in a torte between shortbread and a bittersweet chocolate ganache.  It can be cooked to the right temperature to become a solid that can be topped with sea salt for a contrast to the sweet or enrobed in dark chocolate to really push one into a diabetic coma.
So many things can be done with a simple sugar, water, cream, butter, vanilla combo.
Beyond my experiments with caramel corn and the aforementioned torte, I've been working lately on how to make the perfect dark chocolate caramel cheaply at home.  I've been using this recipe for a while and love the caramel it produces.  After making multiple batches I found that if I added the salt dead last, stirred just to combine and then poured into the prepped pan, the salt doesn't fully dissolve and you get bursts of it among the sweet.  I only use a 1/2 tsp salt and don't sprinkle with extra salt once it sets but as the eldest says, I'm salt intolerant.  I want to taste my food, not the salt.
I follow the recipe as written for steps 1-3 and don't bother putting them in the freezer to chill.  The house is cold enough and I generally make it early enough in the day to leave on the counter for a couple of hours before popping it out and cutting with a bench knife.
The directions for doing the chocolate part is reliable but I don't have the time or patience to temper chocolate.  I also find that dipping the caramels ends up with a lot of wasted chocolate on the parchment paper after dipping and whatever's left in the pan.  I don't like to waste good chocolate.  And it just takes too much damn time.
So in my search for sugary perfection I came across this recipe at my favorite place and gave it a try.  It's not for caramel but I enjoy making my allergies flare up with the occasional Heath Bar so I figured why not give it a try?  It's good but I left out the nuts so I wouldn't be miserable and that just makes it too sweet.  Can't blame the recipe because I left out a key ingredient though.  The youngest ate more of it than me.  I'll probably pulse the rest of it in the food processor and mix it in with ice cream.  Yum.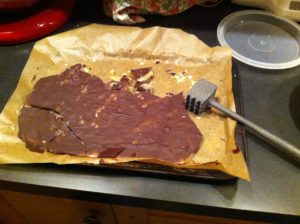 What did work about the recipe though was the way of getting the toffee and chocolate together.  So I tried it with a batch of caramel and was pleased with the results.  Spread some dark chocolate chips on a buttered cookie sheet, pour over the hot caramel, top with more chips and let melt for a couple of minutes before spreading the now melted chocolate around to cover the caramel.  Let it all set for a few hours and then cut with a bench knife.
Perfect dark chocolate and caramel balance with minimal fuss and bother and the bit of salt in the caramel adds the perfect counterpoint.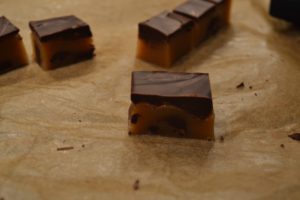 The perfect balance.
Now if I could just figure out the same for the rest of my life.