I have a love/hate relationship with slow cookers.
I love the idea of throwing some ingredients in the crock, turning it on, walking away for six to eight hours and returning to a savory meal.
The reality is that if one just dumps and walks, the results are usually rather bland and if one spends the time to brown ingredients on the stove, there's now an extra pan to wash and what have you really gained?  Why not just cook it on the stove to begin with?
That said, the baby slow cooker is a master of steel-cut oats.  As long as I don't over sleep.  Then they stick to the pot and I have to scrape out and dump half the crock.
So, how to get a useful dinner from a slow cooker without having to do an insane amount of prep?
Still working on that one.
I did recently make a yummy potato & leek soup that turned out pretty good with minimal fuss and bother.  As always, adjust amounts and spices for you and yours.
Into the crock should go chicken stock (whether it's homemade, from a box or can or just water and base is up to you) and thinly sliced potatoes.  I didn't bother peeling them because that's just too much work.  Make sure the stock just barely covers the potatoes.  You don't want the potatoes turning brown before they have a chance to cook down or watery soup.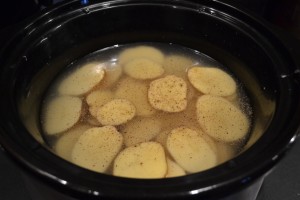 The leeks looked good the last time I was at the store and I was determined to use them before they got slimy, so I caramelized them in a heavy pan with some butter and bacon grease.  A bit of garlic was added in right at the end and into the crock it went.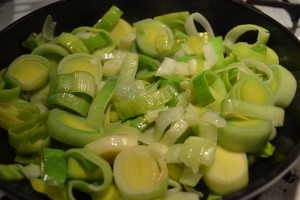 Cook on low for 6 to 8 hours until the potatoes break apart when you poke them with a fork.  I hit the soup with the immersion blender until it was a consistency I liked and added a dollop of heavy cream.
I also cooked up some bacon (everything is better with bacon!) and sprinkled some chopped to the top of the soup once it was in the bowls.
Side salad for some veg and a loaf of bread and dinner is done.  Hands on time maybe half an hour.  Which isn't bad in my book.
And it was really good without me having to remember to stir it.
That's the most important part.