Spending a quiet evening tonight with a bit of the extended family.  The hostess is roasting a turkey.  I offered to bring a dessert.
Sugar and I have an understanding.  Especially if chocolate is involved.
I was originally thinking about zebra caramel corn but Sy and I got home at 10 p.m.  last night and that's just too damn late to start a project of that scope.  Especially since I had work in the morning.
What to make?
Brownies.
Brownies are easy and we always have the ingredients.
But it's New Year's Eve.  Need to class it up a bit as Cassie would say.
We had a pound of cream cheese open and leftover from the holiday baking blitz.  Might as well use it up.
So cream cheese brownies it is.  With a bit of raspberry jam to make it even more decadent.
Insert brownie recipe of your choice.  Mine is 1 stick of butter, melted.  1 egg, 1 1/2 tsp of vanilla, 1 1/3 c of sugar, 1/2 c cocoa (I like Sacco), 1 cup of flour.  Bake at 350° till puffed and done.  This makes an 8 x 8″ or 9 x 9″ pan  (depending on how thick you like them).  I doubled it since I'm not sure how many people are coming.
I also threw in a handful of chocolate chips just for fun.  Used semi-sweet but dark or white chocolate chips could be interesting as well.
The cream cheese soften up while I was making the brownie batter.  It got thrown into the mixer with an egg and sugar to sweeten to taste.  Keep it a bit on the sour side as the brownie batter is rather sweet and makes a good contrast.
Once the two batters are mixed put 2/3 of the brownie batter in a well-greased pan and smooth out to the edges.  My house is on the chilly side so this is easier said than done.  Blop the cheesecake batter on top.  If you want, add in the jam of your choice as well.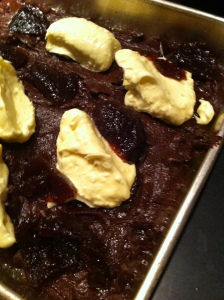 Blop in the rest of the brownie batter and swirl with a knife point to blend the layers slightly.  It's ugly at this point but don't worry, it'll all smooth out in the oven.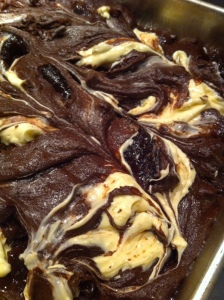 Bake at 350° till it puffs up. Under cooking a bit is preferable to drying them out. Leave the pan in the oven as it cools off and then pop in the fridge. Preferably overnight.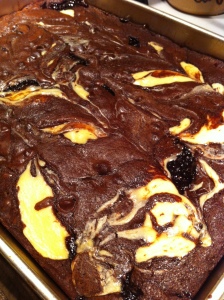 I'm sure dinner is going to be wonderful but I can't wait for dessert.